Community Profile

Supernatural Postcard Project
Free Account
Created on 2009-05-14 22:41:54 (#339102), last updated 2010-01-12 (401 weeks ago)
0 comments received
3 Journal Entries, 0 Tags, 0 Memories, 1 Icon

About
| | |
| --- | --- |
| Name: | Supernatural Postcard Project |
| Location: | Canada |
| | |
| Membership: | Open |
| Posting Access: | All Members, Moderated |
| | |

Mini Bio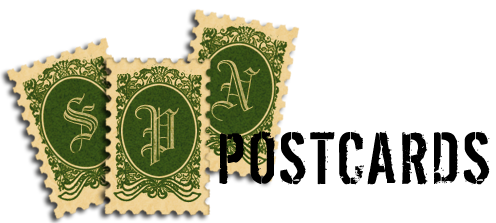 "Our office in Vancouver is just plastered with postcards. People that are into the show are really into it."
Bob Singer. Supernatural The Official Companion Season 1. Pg 157.



---
---
Are you a fan of the television show Supernatural, airing on The CW on Thursday nights at 9:00EST? If your answer is yes, then please join us in sending postcards to the cast and crew with our thanks and appreciation for all the hard work and long hours that they put into the show.
This journal will be a central place for seeking information related to the SPP (Supernatural Postcard Project), as well as a place where you can post scans or photos of the postcard you're sending. Information on how you can send a postcard to the cast & crew at Supernatural Studios can be found
in this post
. If you need ideas of what to write on your postcard(s), you can refer to
the TCA interviews
, which pretty much inspired

phantomas
to come up with the idea for this project in the first place. We want the cast & crew to know how much we appreciate all their hardwork and the long hours that they put into creating Supernatural, and we are asking you to help us convey that message through postcards.
If you have any questions about this project or the community in general, then please feel free to contact

thirdsouthobbi
,

deathisyourart
, or

phantomas
.
General Rules:
Posting in this community is moderated, and posts must remain on topic and be related to the campaign. Questions about the campaign, or scans of your postcards are more than welcome. Promoting another community is not allowed, neither is the posting of icons, fic, vids, or anything of that nature; there are more than enough communities for that.
Rules Regarding Pictures:
All pictures posted within this community or that are linked to from this community are subject to the following rules:
- DO NOT REPOST WITHOUT PERMISSION (this includes websites, forums, and all unlocked journal/blog posts).
- DO NOT USE FOR GRAPHICS OF ANY KIND.
- DO NOT SELL PRINTS.
Many thanks to

phantomas
, who came up with
the original idea
:)
---
Past Projects:
Project: Urban Legend
Supernatural Postcard Project: Season 3
Supernatural Postcard Project: Season 2
---



This community is a member of the Supernatural Underground.

& Banner by

deathisyourart

Connect
bobby singer
,
castiel
,
dean winchester
,
eric kripke
,
film crew
,
jared padalecki
,
jeffrey dean morgan
,
jensen ackles
,
jim beaver
,
john winchester
,
mary winchester
,
misha collins
,
sam winchester
,
supernatural
, supernatural studios,
the cw
Administrators

Members (9):

Subscribers (14):

Linking
To link to this user, copy this code:
On Dreamwidth:
Elsewhere: